Workshops
International Workshop on CO2 Capture and Utilization
TU/e - Eindhoven, The Netherlands, February 16th-17th, 2021
 Invitation
We are please to invite you to the international workshop on "CO2 capture and Utilization". This public workshop has been organised by 11 EC funded project working in the field of CO2 capture and/or utilization. Detail information on the workshop can be found at the following web page: https://www.iwccu.org/index.php.
Both the booklet with the presentations and the recorded presentations are now available online. You can download the booklet here and you can find the playlist at the following link: https://www.youtube.com/watch?v=14JUWEBsOzI&list=PLHN59zhgiixeS7xxcurz7r....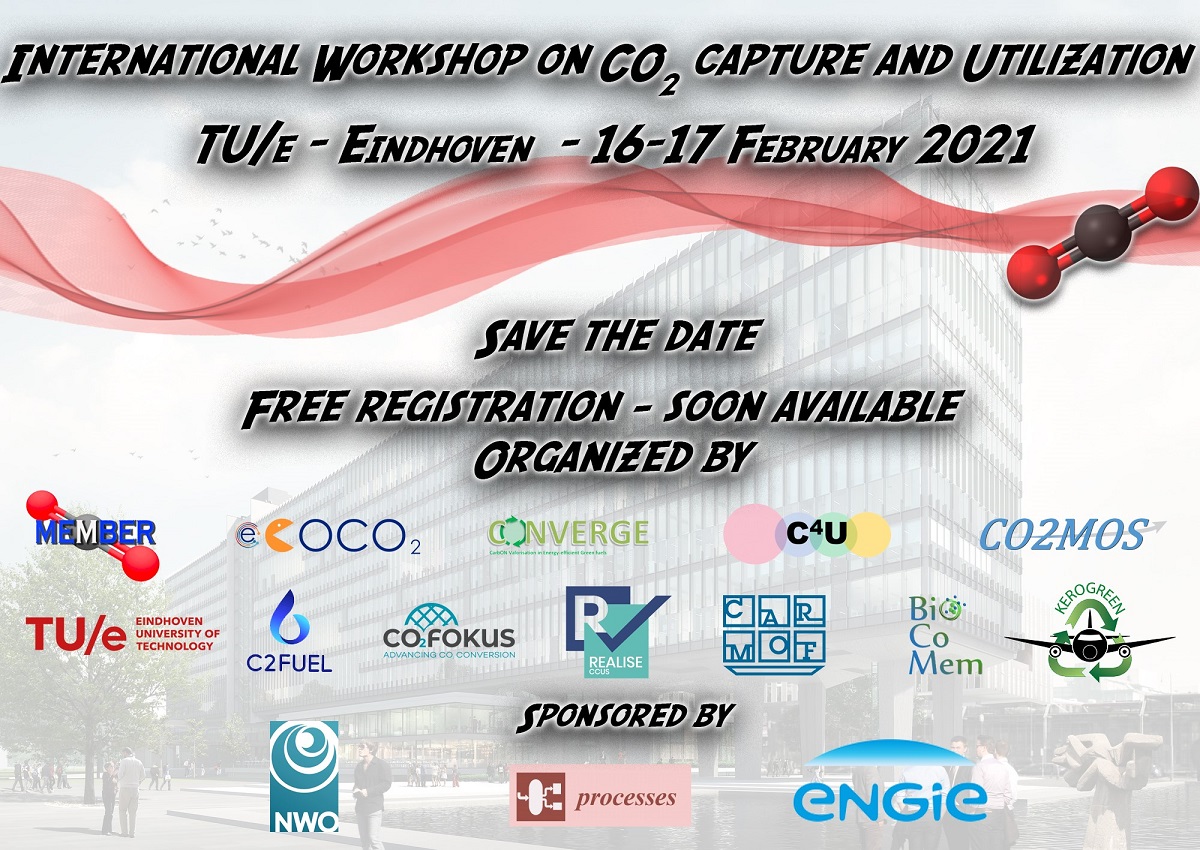 Workshop on membrane processes for CO2 capture
Eindhoven, The Netherlands, January 15th, 2020
 Invitation
We are pleased to invite you to the 1st Workshop of the MEMBER Project.
The H2020 funded project MEMBER aims at decreasing the cost of CO2 capture on different processes. The main challenge of including CCUS in power generation or other industrial sectors is related to the energy consumed by the separation processes needed to achieve low carbon emissions (e.g. heat for solvent regeneration). This energy requirement is the major reason for the reduced overall net efficiencies. In order to reduce this energy penalty, MEMBER will scale-up and manufacture advanced materials and prove their added value in terms of sustainability and performance. It targets three advanced solutions based on: Innovative MOF -MMMs for pre- and post- combustion CO2 capture in power plants, and an intensified reforming process combining high temperature solid CO2 sorbent and dense Pd membranes for pure H2 production with integrated CO2 capture (MA-SER).
This special dissemination workshop will focus on fundamental membrane-related science, process design and applications related to CO2 capture in industry. Lectures are given by scientists of both academia and industry. A poster session for all participants and a lab visit is also included.
This workshop continues the previous workshops series on membranes and membrane reactors organized by European Projects. The first workshop was organised back in November 2012 (Italy). The second workshop was held in April 2015 in the Netherlands and the third was held in March 2017 in Verona (Italy). More information on the last workshop can be found in the FluidCELL website.
Program
Full program can be downloaded at the following file: Agenda MEMBER Workshop_15Jan2020.pdf
Presentations

The Booklet of the public presentation could be downloaded at the following link: MEMBER-Workshop-Membrane-Processes for CO2 Capture-15012020-final.pdf
Important dates
Deadline for registration: December 31st, 2019
Workshop: January 15th, 2020
Registration
Attendants should register filling in the attached file: MEMBER_FirstName_FamillyName.docx and sending it at the following email: MEMBERWorkshop2019@tecnalia.com
Participation to the workshop is free of charge. Any participant is invited to bring a poster.
Venue
The Conference will take place at Eindhoven University of Technology, building Auditorium, room 4.